Complementing the current 6B model lineup, the new 6140B CAB Tractor comes with the John Deere 6 Cylinder Turbo Charged Tier III engine, incorporating the latest John Deere engine technology to deliver optimized fuel efficiency, immediate torque response and supreme engine reliability.
This well-balanced 6140B CAB Tractor with heavy duty frame and long wheelbase is available in a Standard and Premium version, offering specification and performance features that fully compliment customer needs in grain, hay and forage, sugar cane, timber, dedicated contract work as well as high value crop production systems.
The 12F/4R TSS 40 km/h transmission with wet clutch for the Standard CAB and the 24F/12R TSS 40 km/h transmission with Hi-Lo, Power Reverser and wet clutch for the Premium CAB, allows the customer to choose the tractor that best suits his specific application requirements. Added to the versatility that comes with the transmissions, optimized performance and efficiency is further enhanced by the heavy duty Cat II 3 point hitch with 5400 kg hitch lift capacity, 200 bar open center constant flow hydraulics with three SCV's and the 540/1000 rpm. reversable PTO.
This high quality, reliable and heavy duty 6140B CAB Tractor is no doubt the right choice that will provide peace of mind in any application ranging from heavy tillage, planting, spraying, spreading, mowing, baling, material handling and transport work.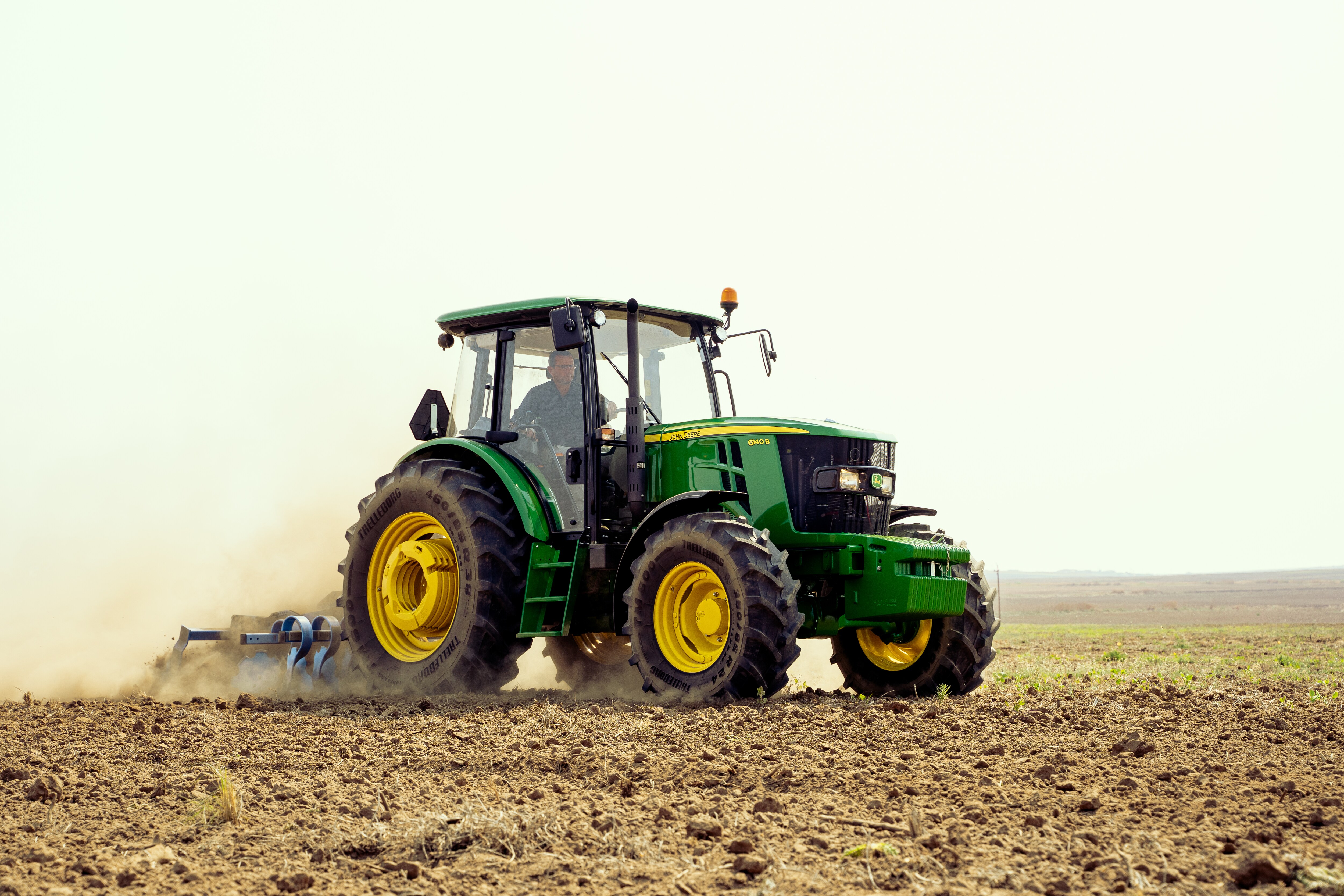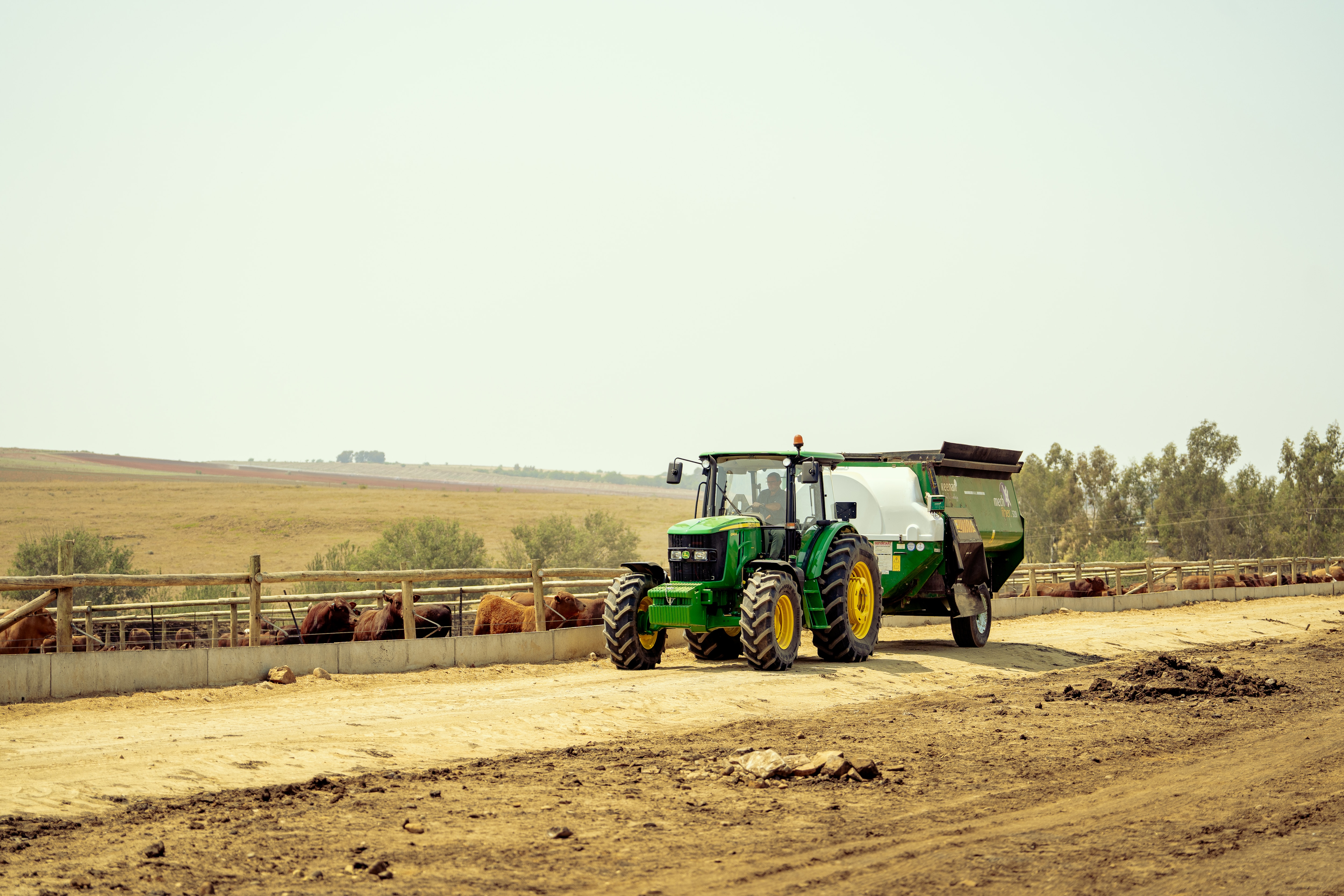 The John Deere 6.8 l Turbocharged Tier III PowerTech E engine is equipped with precision engineered combustion components, high pressure common rail fuel injection system, heavy duty efficient PowerCore venturi type air filter, fuel pre-cooling and a dual stage heavy duty water separator. These high quality components are designed to optimize engine performance including supreme power delivery, fuel efficiency and durability in any extreme heavy duty application ranging from heavy tillage, planting, spraying, spreading, hay making and transport operations.
The 255 l Fuel tank allows you to stay in the field throughout the day, optimizing daily field productivity. Extended service hours with John Deere Plus 50 engine oil further enhances operational efficiency while fully protecting the engine for long hours of operation. Easy access to service and maintenance points on John Deere engines makes servicing of the engine quick and efficient.
The Air Conditioned CAB with flat operators platform, comfortable Seat, Gear shift, Throttle, SCV and PTO controls all conveniently located on the RH console, offers ample space and convenience for great comfort during long working hours. Adding to your comfort, the CAB is standard equipped with both LH and RH doors. The 24F/12R TSS 40 km/h transmission equipped with the Hi-Lo power shiftable gears, allows an increase in productivity of up to 15% and improvement in fuel efficiency of up to 13%. Also included with this transmission is the PowerReverser feature allowing comfortable travel direction changes, adding to the convenience, efficiency and speed of operations.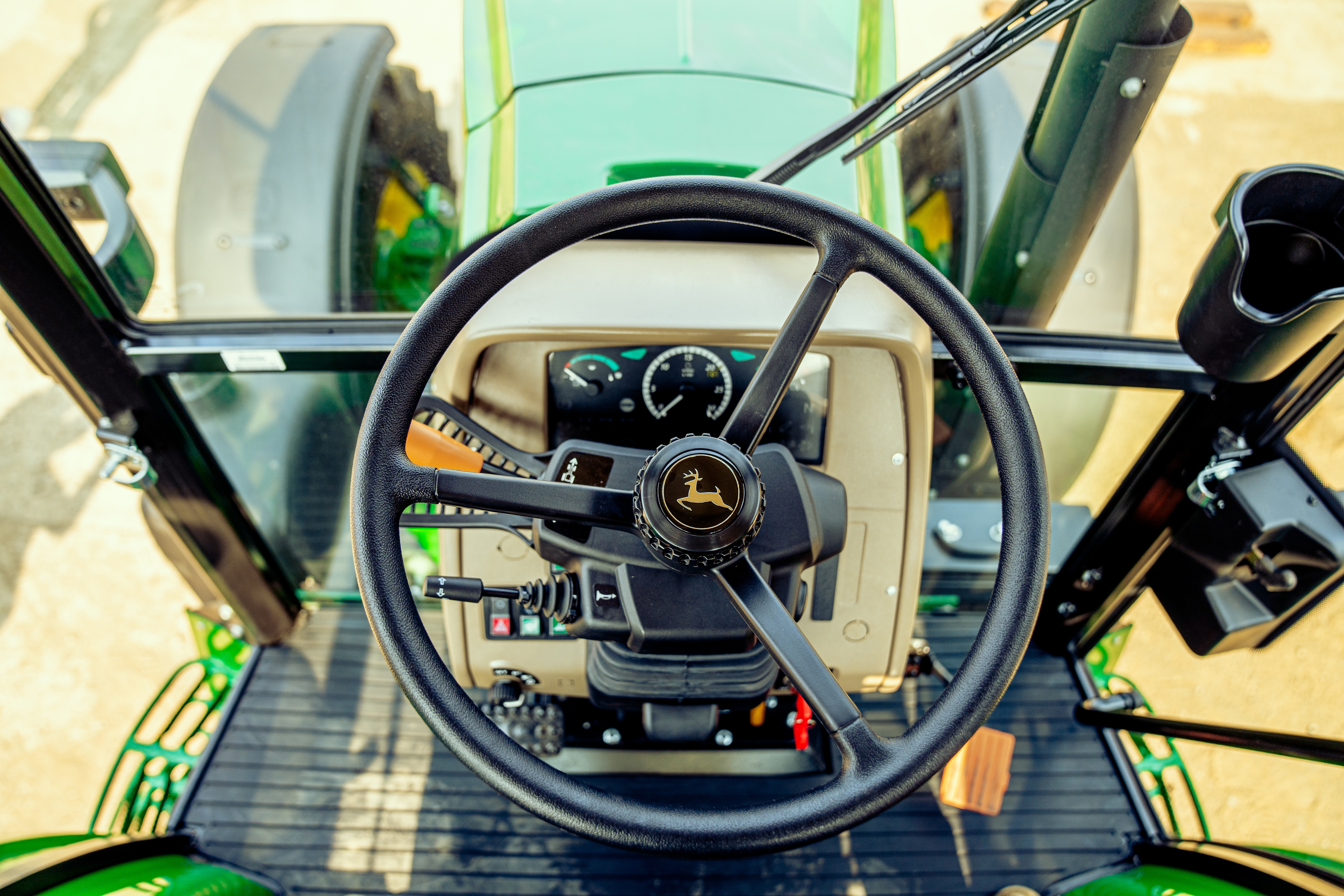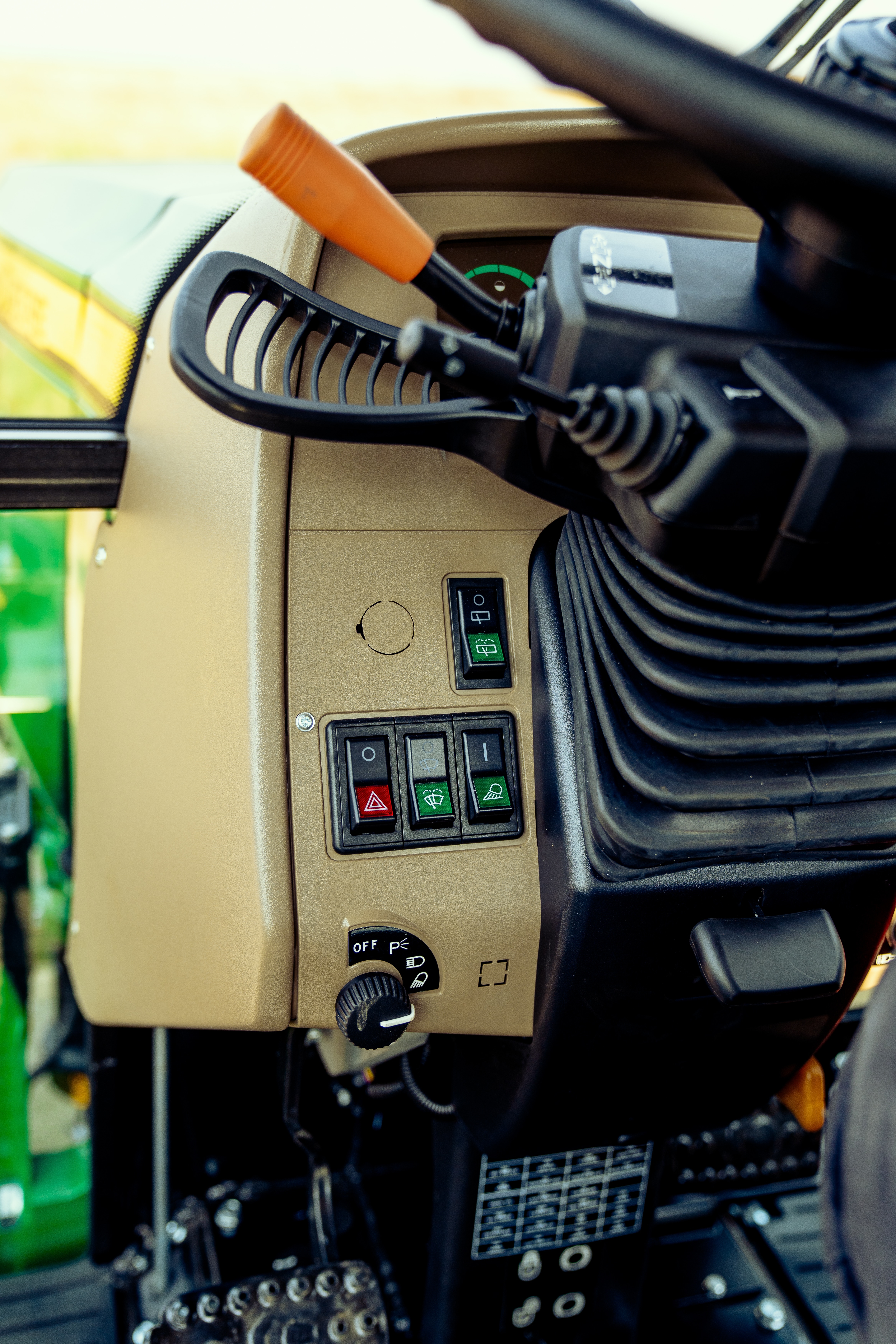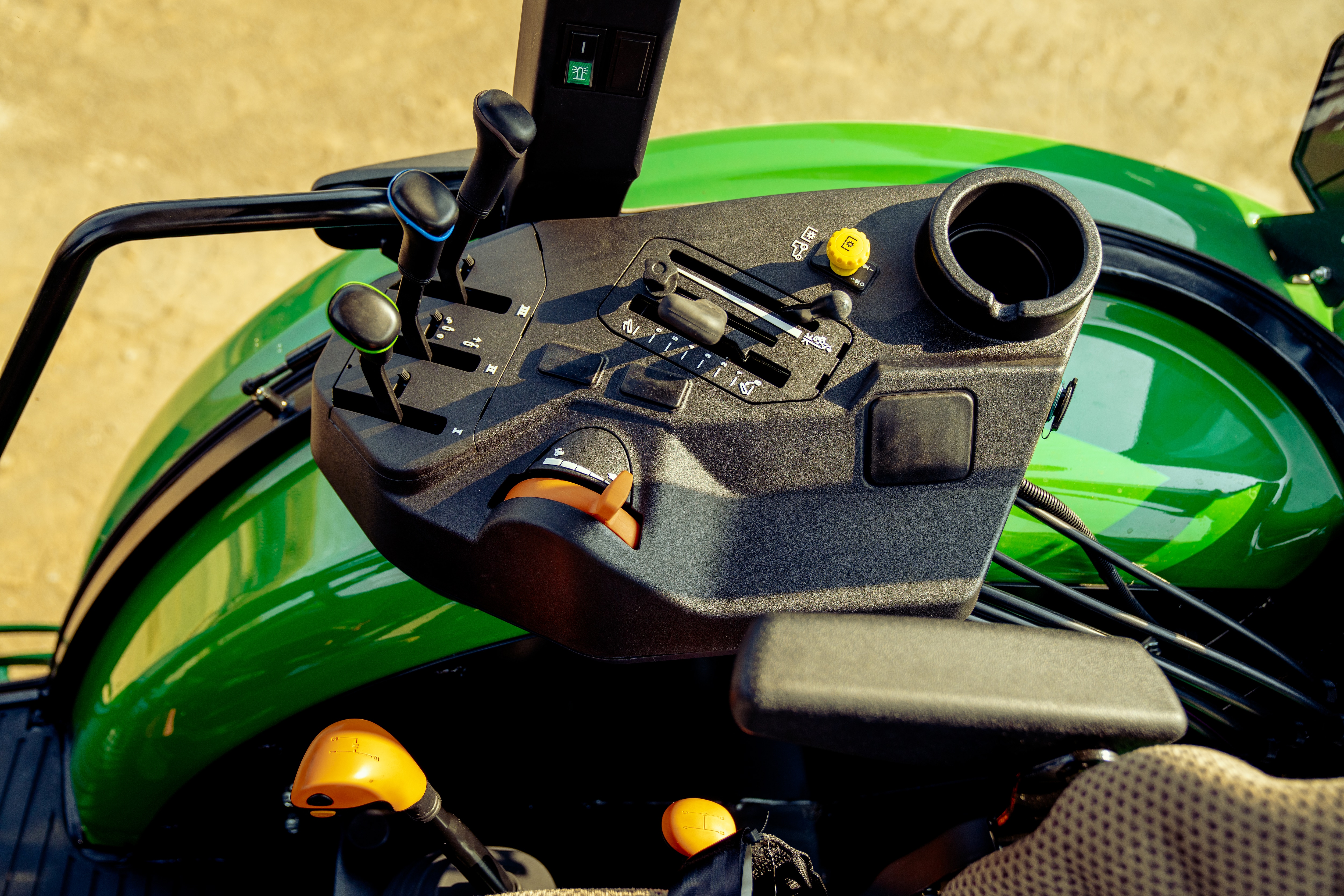 Important to highlight is the heavy duty rear axle and 3 planetary final drives, adding to the heavy robust overall frame design allowing heavy loads and trouble free operation in any heavy duty application. Ideally suitable for dedicated haulage application, the heavy duty mechanically actuated brake discs ensure safe and reliable handling of the towed load over hilly terrain.
The heavy duty CAT II three point hitch with lift capacity of 5400 kg is equipped with hook type hitch arms allowing safe and easy hookup with the implement. Mechanical lower link sensing enhances hitch response, ensuring effective and optimized performance of both tractor and implement in the field.
As uptime remains crucial to the effectiveness and productivity of your operations, response to technical breakdowns and availability of parts is a key consideration when planning your new tractor purchase. Your John Deere Dealer is well structured with professional personnel and services from sales and financing solutions through parts availability and technical support to keep your critical operations on schedule during the important seasonal production periods. It is important to note that your dealer is fully equipped with the latest in technology such as JD-Link to help monitor your equipment remotely for early fault detection and response.
About John Deere
With a rich history of more than 140 years in South Africa, John Deere is a trusted, world-renowned leader in producing turf, agricultural, construction, and forestry machinery solutions with state-of-the-art precision technology. With its continued focus to strengthen its presence throughout the Africa Middle East region ("AME"), John Deere AME serves its customers through more than 218 dealer touch points across Africa Middle East and supports its dealer network with a Regional Parts Distribution center in South Africa as well as sales and marketing offices in South Africa and Kenya.
Committed to delivering a distinctive customer experience coupled with solutions-driven advice from its authorised dealer network and John Deere Financial Solutions, John Deere AME promotes food security while actively driving a successful and inclusive agricultural community while supporting Africa's growth via its construction and forestry solutions.
With core values of integrity, quality, commitment and innovation, John Deere AME remains dedicated to the success of its customers, to those who cultivate, harvest, transform, enrich and build upon the land to meet the world's dramatically increasing need for food, clothes, shelter and infrastructure.