John Deere offers a complete power range that meets all worldwide emissions regulations and certifications – from non-emissions certified engines to Stage III A (Europe) and Interim Tier 4 (North America).
The Stage III A generator drive engines are available from 30 to 300 kVA in displacements from 2.9L to 9.0L. The latest additions to our power range meet all Stage III A emissions regulations, which came into effect in 2011, for non-emergency or mobile prime power gen-sets in Europe. We also offer a full line of reliable Stage II and non-emissions certified engines for standby gen-sets and non-regulated areas.
John Deere uses proven electronic controls in almost all our power ranges. They help provide load recovery, clean power, better diagnostics, engine monitoring, and ease of synchronisation when operating more than one set in parallel. Electronic controls also make it easy to switch between different frequencies. While our Stage III A engines are optimised for 50 Hz at 1500 rpm to meet European customer demands, they are simple to switch to 60 Hz at 1800 rpm for manufacturers who export gen-sets to other regions.
The simplicity and convenience of John Deere engines extends to the gen-set owner. All service points are located on a single side for easy access and quick service. These new engines are designed to minimise noise and vibration. They are also equipped with a system for purifying crankcase gases (OCV - Open Crankcase Ventilation) to maintain a cleaner work environment.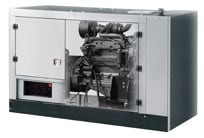 Standby power. The European Union (EU) does not regulate emergency standby applications. The EPA requires emergency standby applications to meet Tier 3 emissions regulations.
Prime power. Starting in 2011, prime power applications are required to meet Stage III A emissions regulations in Europe and Interim Tier 4 in North America.
John Deere generator drive engines keep your gen-sets in compliance, and they keep your customers confident. Wherever your generator sets go, they will be ready to meet local emissions regulations in most countries