As much as we value the personal interactions with our customers, it is not always possible to have these in-person interactions with our customers to support their equipment. John Deere is a global leader in agricultural technology and innovation since its start in 1837. Today, John Deere and its independent dealer network in South Africa is geared to take opportunities offered by technology to monitor and support machines remotely, using in-depth data analytics to optimize machine utilisation, and even execute predictive maintenance to reduce machine downtime and in many cases, prevent catastrophic failures.
John Deere Connected Support is a proactive service approach that utilizes the telematics machine connection to leverage a suite of remote support tools to improve service efficiency and reduce machine downtime. John Deere dealers throughout South Africa can offer various support packages with proactive services and monitoring that drive more uptime, in-the-moment services that ensure quality job performance, and leveraging technology to be more effective and efficient. Many of your John Deere equipment is prepared with technology that senses potential issues and can alert you promptly, in the cab or anywhere you are. To take this one level further, your John Deere dealer can receive alerts and connect to your equipment remotely to run diagnostics. John Deere prides itself in a strong dealer network that is always ready to keep our farmers farming better and produce food for an ever-growing population.
JDLink ™ Machine Alert Monitoring lets dealers and customers remotely monitor connected machines and view machine health information such as selected diagnostic trouble codes (DTC) to prevent any major failures.
Service ADVISOR™ Remote allows dealers to view machine information to quickly make an assessment if a visit or additional diagnostics is needed by reviewing DTC alerts and other machine data. If a trip to the field is required, the additional information allows the technician to bring the correct parts and tools to the field to fix the problem the first time and reduce downtime.
Remote Programming allows a dealer to push software updates to machines to remotely resolve defects or enable enhancements and new features. Being able to perform this function remotely will save a technician driving out to the machine, increasing efficiency and reducing downtime.
Remote Display Access allows a customer or dealer to view an operator's screen remotely from a phone, tablet or computer. Remote machine optimization recommendations and remote diagnostics can save time and can save cost in sending a technician out to the field.
Expert Alerts proactively notify dealers of potential machine breakdowns and provide the necessary information to resolve the issue with the goal of preventing, minimizing, or managing customer downtime and reduce cost and occurrences of catastrophic failures.
Machine Dashboard allows dealers to monitor the farmers entire connected fleet of equipment in one place with overall machine health. This can help the farmer plan for maintenance during scheduled downtime. With the John Deere dealer knowing the health of a farmer's entire connected fleet, it also allows a technician to address any and all issues in the same visit, saving the farmer time and money.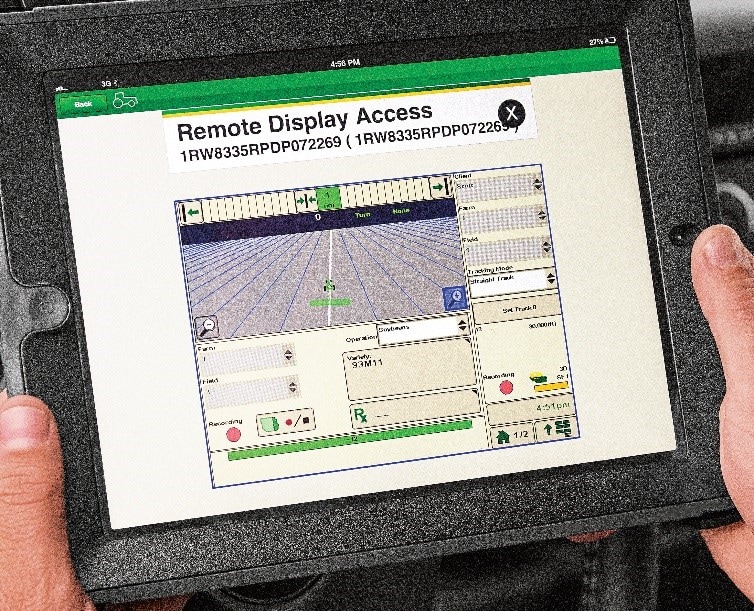 Remote Display Access
To start taking advantage of the benefits offered by these technologies, the farmer will need to order new equipment, or fit his existing equipment with a receiver, a compatible display, a mobile telematics gateway module, and a JDLink™ activation. John Deere also offers hardware solutions for smaller equipment that offers basic guidance and management, but also universal auto steer kits that can be fitted onto older John Deere equipment as well as equipment from other manufacturers. The farmer will then need to register a profile on the John Deere Operations Centre and finally, allow his/her dealer access to the equipment and data to start utilising connected support services.
The StarFire™ 6000 Receivers offer four differential correction signal levels to match equipment performance with the needs of the operation. SF1 is the basic signal subscription with no repeatability and a pass-to-pass accuracy of ± 15 cm. SF3 is a more advanced signal subscription that offers in-season repeatability with a pass-to-pass accuracy of ± 3 cm. Lastly, the most advances signal option is Radio RTK and Mobile RTK with continuous repeatability from a fixed base station and a pass-to-pass accuracy of ± 2.5 cm.
Pass-to-pass accuracy has a direct impact on guess-row spacing during jobs like planting, strip till, or fertilizer application, which can have a direct impact on yield potential. Guess-row spacing is also critical for operational efficiency and reducing crop damage in operations that mix implements of various widths. Pass-to-pass accuracy also has a direct impact on the amount of skip or overlap that occurs during operations like spraying, fertilizer spreading, or conventional tillage, which has a direct impact on yield potential and input costs. It is important to consider the operation and need for accuracy levels to ensure the correct differential correction is selected. For example, accuracy for planting is critical, SF3 or RTK would be the logical choice for this operation.
Repeatability defines how accurately the receiver calculates its position over a relatively long-time window. In-season repeatability is critical when using AutoTrac™ for multiple jobs throughout the growing season, such as creating AutoTrac™ guidance lines during planting, then using those same guidance lines to complete subsequent jobs like side dressing fertilizer, post-emerge spraying, and harvesting.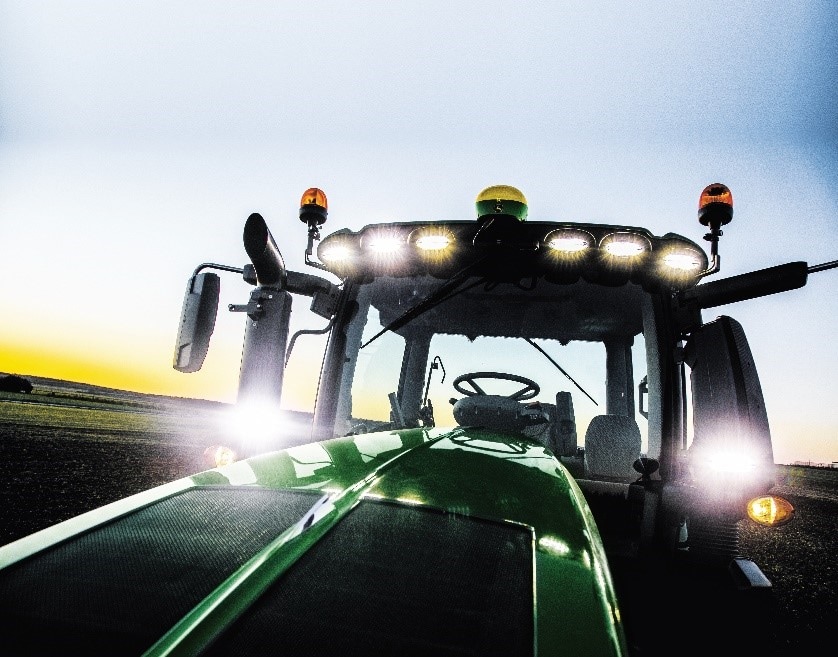 SF6000 Receiver
To compliment the receiver and signal subscription, the farmer has a display option between the 4240 Universal Display or the 4640 Universal Display. The 4640 display can be considered when working with a significant volume of customer, farm, and field data; working with large or numerous boundaries being created or imported onto the display, intense software updates and display reprogramming activities, minimising time required for Import/Export of large file sizes; using applications such as File Manager and Software Manager as well as AutoTrac™, Documentation and Section Control. The 4240 display is intended for farmers wanting the Gen 4 operating experience that have limited Precision Ag needs (AutoTrac™ guidance, Documentation, Section Control). This is also the only display option for producers needing Precision Ag functionality on open station machines. The 4240 is a good fit for all makes of tractors (AutoTrac™ Universal and AutoTrac™ Controller tractor models for AutoTrac™ requirements) and operators that prefer to run Precision Ag apps on a Universal Display.
The AutoTrac™ Universal 300 (ATU300) steering kit is a mobile guidance solution that brings additional productivity to farming operations throughout the growing season. ATU300 is compatible with GreenStar™ 2 1800 and 2600 displays, GreenStar 3 2630, and Gen 4 4240 and 4640 Universal Displays. It is also compatible with StarFire™ 6000 and StarFire™ 3000 Receivers. ATU300 is approved on over 600 different equipment platforms and is compatible with many agricultural vehicles with steering systems in good mechanical condition.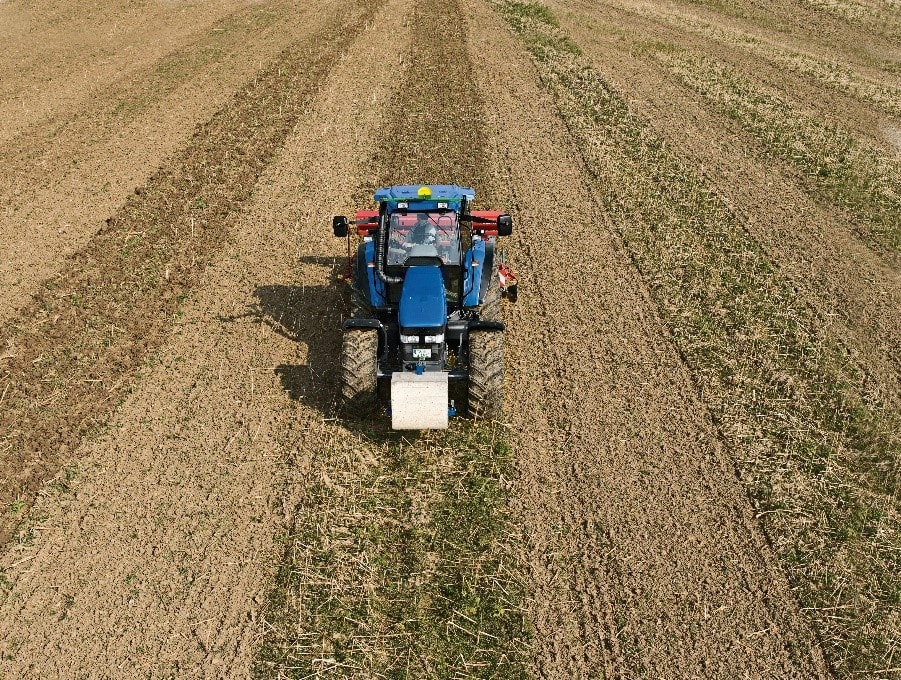 ATU300/ATC300
The benefits of the AutoTrac™ Universal 300 over the AutoTrac™ Universal 200 includes improved on-track line performance, weather-resistant design (open station approved), faster line acquisition, improved diagnostics and easy-to-use calibration for quicker setup
The newly introduced AutoTrac™ Controller 300 (ATC300) is a customizable solution to deliver the benefits of AutoTrac™ on machines not already equipped with a guidance system. This allows the operator to maintain the original cab experience and is available for tractors with open or closed centre hydraulic systems. AutoTrac™ Controllers enable more farmers to take advantage of the benefits of integrated John Deere AutoTrac™, even on other manufacturers or machines not offered from the factory with AutoTrac™.
This will enable any farmer to start using the benefits of precision agriculture. South Africa's farmers, big and small, are all competing in a globally competitive market with the challenge to continuously reinvent themselves to remain relevant to be able to produce more food, at an acceptable consumer price, while being friendly to the environment. Feeding our nation and our continent is a critical task and technology is playing an ever more important role to enable the farmer to bring more food into production and to produce more food off the current land they cultivate today. For more information or to get started, please reach out to your nearest John Deere dealer or reach out to us at Africa@JohnDeere.com.